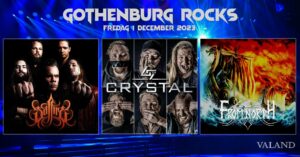 GOTHENBURG ROCKS! SAFFIRE, SEVENTH CRYSTAL & FROM NORTH intar Valands scen den 1 december
SAFFIRE Fyra hyllade album senare är Saffire mer taggade än någonsin att visa vart rockskåpet ska stå. Bandet har under åren spelat på Sweden Rock Festival. Tons of Rock, Metallsvenskan, Time to Rock, Gothenburg Sound Festival och Skogsröjet.
Musiken brukar ofta jämföras med akter som Deep Purple och Rainbow; tung hammond, catchiga gitarrmelodier och med sång som påminner om svunna tider. Saffire nöjer sig dock inte med att vara en enkel retroflirt utan blandar in modernare inslag i låtskriveri och ljudbild.
https://www.facebook.com/saffiresweden
SEVENTH CRYSTAL "Seventh Crystal levererar modern bombastisk hårdrock med ett sound inspirerat av ett melankoliskt Göteborg och hoppfulla melodier som för tankarna till topplistorna i USA.
Med de kritikerrosade plattorna "DELIRIUM" (2021) och "WONDERLAND" (2023), över en miljon streams på Spotify och YouTube och gigg både i Sverige och Tyskland är det ett inoljat maskineri som levererar svensk hårdrock med mycket spelglädje och gemenskap!
Med låtar som "Wonderland", "Say What You Need To Say" och den nyligen släppta "Silence" från EPn "INFINITY" som släpps den 4/11 utlovas skåpställning på Valands scen i december!"
FROM NORTH From North is a Swedish folk/viking metal band founded 2016 in Varberg. The songs are epic viking hymns: mixing modern hard hitting metal with nordic and mideval instruments and lyrics drawing inspiration from the rich Norse folkelore. Stories about the myths, gods and the heroes and warriors that came before.
The band released a higly acclaimed debut album 2017 and several EPs. After gigs at Rockharz Festival and Viborg Metal Festival the pandemic plague years came and put everything on hold but now the vikings are back once again and with a new full lenght album, they're riding on the waves and raid the lands! Hold your horns up high Facebook
https://www.facebook.com/fromnorthsweden